SKIATHOS

SKIATHOS

ABOUT SKIATHOS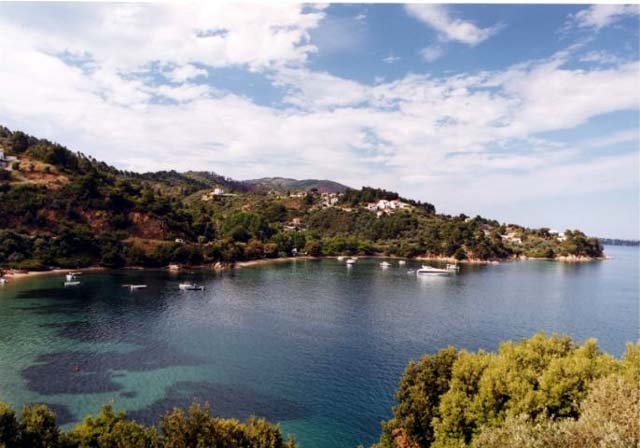 Skiathos lies west in the Sporades islands, with Skopelos, Alonissos and Skyros to the East and Magnisia, Volos and Pelion to the West.

The distance from Volos and Agios Konstantinos is about 55 km.

The island has kept the same name throughout its 3 thousand years history. It is derived from the Greek word "skia", which means shade, and the name of the sacred mountain "Athos", which towers 140Km to the northeast of Skiathos. The island in the shade of Athos (skia + Athos = Skiathos).

Skiathos covers 58 square kilometres, being about 12 kilometres from east to west and 6 kilometres at its widest point. Irregular in shape, it is largely mountainous with a maximum elevation of 433 meters.

It is mostly covered with pines, but walnut and plane trees can also be found. Also olive trees and vines are cultivated. It consists of successions of coves and bays that feature more than 60 beaches which offer some of the best swimming in Greece. There are several smaller islets around the island.

The main industries are agriculture (dairy and vegetable, especially olive oil production from the 600,000 olive trees), fishing, and tourism. There is just one major road, leading from the town down along the south coast to the many small bays and beaches. Transport is by bus or taxi.

You go to Skiathos by plane from Athens and more than 70 charter flights per week connect the island with most European countries through all summer. Skiathos is also connected by ferry with Bolos, Agios Konstantinos, Alonissos, Skopelos, Kymi, Euboea, Skyros and Chalkidiki. In the high season (the summner) there is a connection with Thessaloniki, Cyclades islands and Skiathos.